OUR SERVICES
VISUAL DESIGN
the piece of art
Branding

User Interface

Testing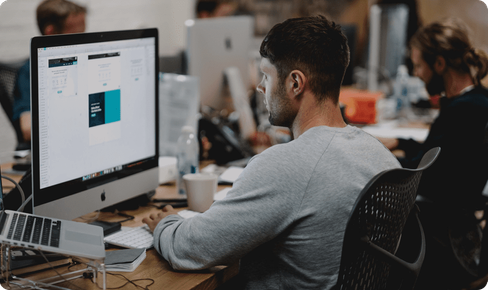 Let's make the world pretty.
We either create the new brand language for you or adapt the existing one to the digital product.
But that's just the first step. All the designs will be tested for functionality and perceiving.
How we do it?
Implementation tools
Stage output
Implementation tools
Adobe Illustrator
Photoshop
Stage output
New product branding
or
Existing branding adjustment
Implementation tools
Stage output
Design
Animations
Style guide
Implementation tools
InVision
Users interview
Hallway interview
Product analytics
A/B tests
Stage output
The result
BRANDING AND DESIGN
Design is not just about the looks, but that doesn't mean the looks are irrelevant. After our UX designers make sure the product does the job, our visual designers take over - and dress it up to look the part as well. Time to ditch the boring grey wireframes and visual, baby!
Schedule a meeting
Alexander is an expert in project & product management. If you have a specific question or want to discuss a project, just schedule a free meeting with Alexander and discuss your idea.
Schedule a call

Contact us
Let's talk about your idea – fill in the form and we will contact you within 24 hours. We can't wait to start working with you!