BNP Paribas: enhancing UX for usability, readability, and content exploration on Agromomist portal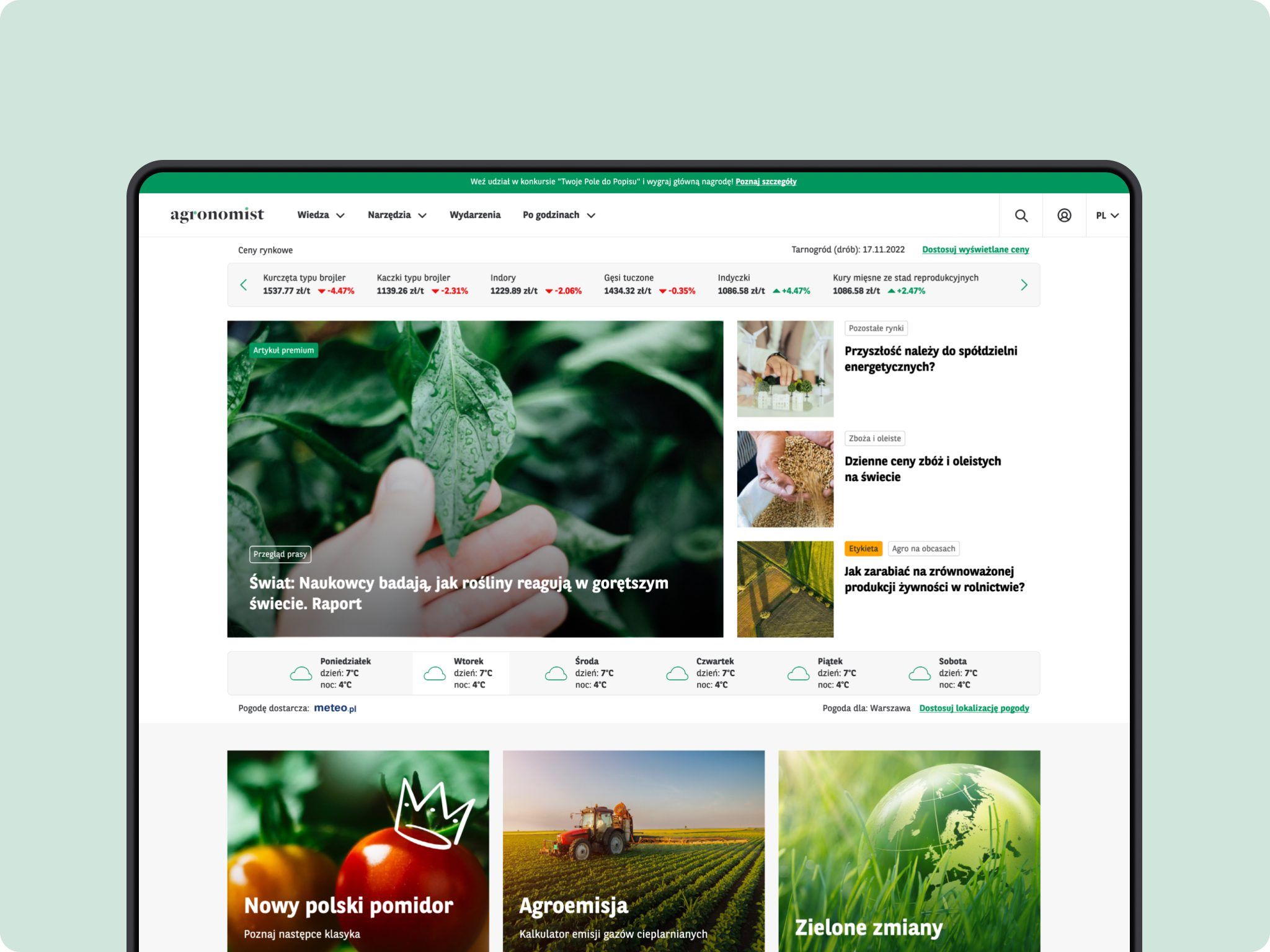 Meet Agronomist
Agronomist is a platform, established by BNP Paribas, a renowned leader in financial services for the agricultural and farming sector.
The primary goal of the service is to become a solid analytics and knowledge-rich powerhouse dedicated to supporting the green transition. In addition, it provides a wide range of tools supporting optimization and farm management.
With a strong emphasis on acting locally and promoting social inclusion, the platform aims to empower agricultural enterprises and international corporations alike. Leveraging their expertise and global reach as a powerful bank, they maintain close connections with local clients, ensuring personalized support and tailored solutions. Furthermore, they remain committed to their sustainable development goals, consistently working towards a more sustainable and resilient agri business landscape.
The challenge
One of our major challenges was to ensure that searching and filtering through the vast Agronomist's knowledge base became easier and effortless for users.
We wanted them to be able really explore the platform and its content, transforming it into an invaluable source of the latest information, enabling them to stay updated on trends and gain access to expert insights.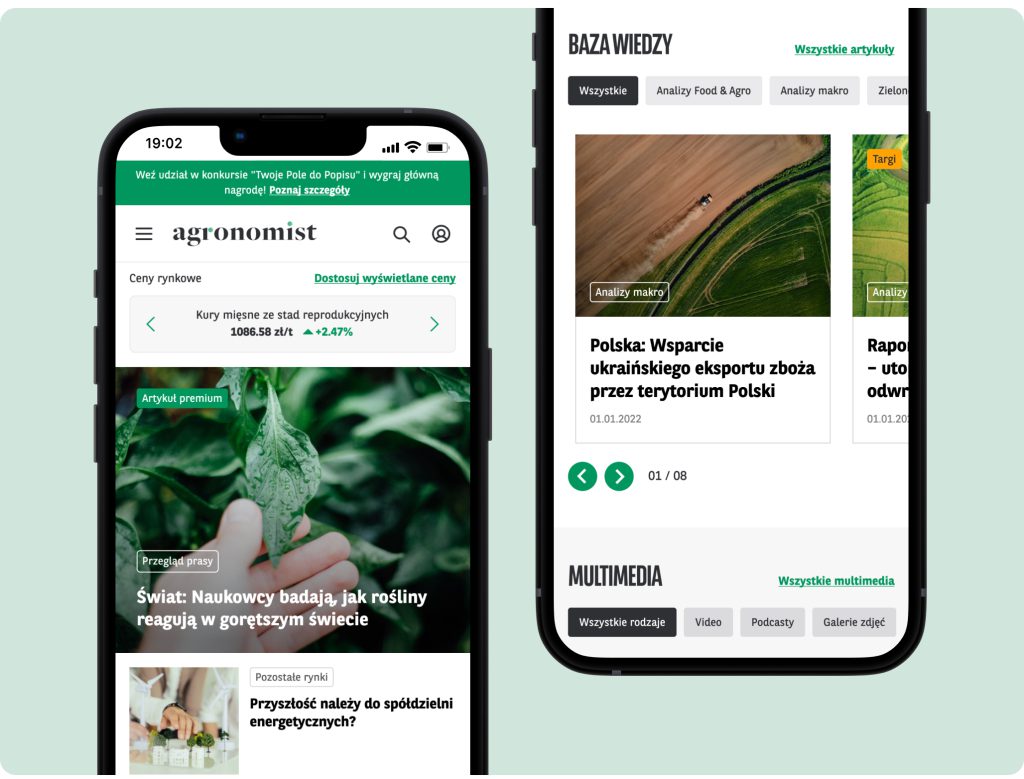 Scope & services
300.codes delivered a comprehensive range of services, encompassing a vast scope. Those included:
UX audit
Business Analysis
Market research
Trend Analysis
Product Design
Headless CMS
Refactoring
DevOps (AWS)
Development
The result
New Agronomist is a practical solution that goes beyond a simple redesign and introduces a refreshing upgrade!
What truly sets this solution apart is its ease of use, particularly when it comes to filtering through the vast database of articles authored by experts in the food and agro field. With intuitive tools that simplify the search for specific information, users can effortlessly explore this wealth of knowledge, ensuring they stay ahead in this dynamic industry.
Visit Agronomist page and see for yourselves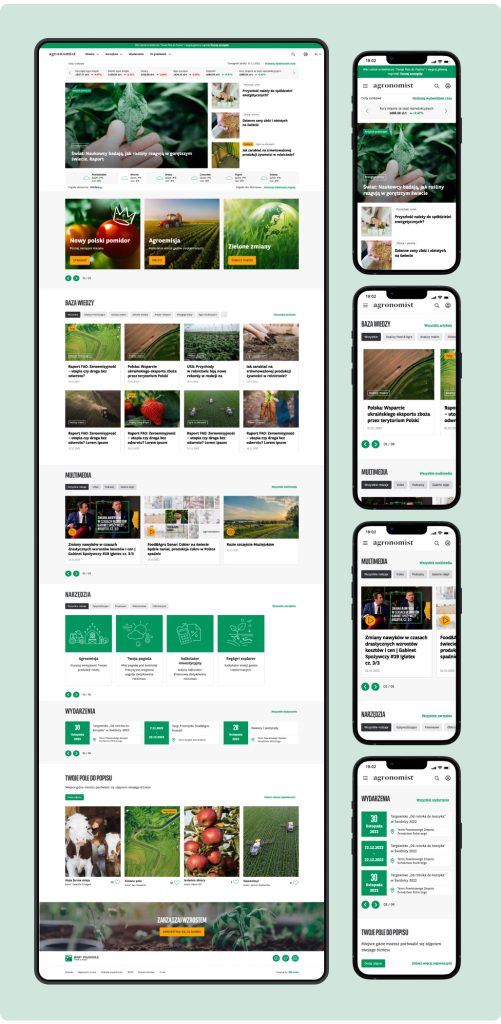 How we did this
In order to ensure that our ideas and project vision were perfectly in sync, we kicked off with a productive scoping session alongside our client.
This series of workshops played a pivotal role in guiding our decisions on the most effective workflow and visual direction for our proposal.
By engaging in open discussions and active participation, we gained a clear understanding of the client's needs, making it easier for us to deliver a solution that precisely matched their requirements.
Discovery phase
Workshop sessions:
During the product discovery phase, we extensively studied over 200 farmers and food processors, delving deep into their daily needs and challenges.
Additionally, we organized product workshops that welcomed industry experts from the Food & Agri sector. This collaborative effort allowed us to fine-tune the strategy and feature set of Agronomist. As a result, we designed and implemented the following features and solution
Key insights
Focus on building an expensive knowledgebase including articles written by experts, and in-depth market analysis
Integration with multimedia: Industry-specific media and podcasts
A module for tracking average prices of agricultural products, allowing users to monitor price trends in different regions
User-friendly mobile version
A dedicated weather service tailored specifically for agricultural farms, providing weather information customized for a specific area (including frost alerts).
Focus on usability, readability, and ease of exploring the content
We delivered a holistic SEO strategy to enhance the online presence and visibility of Agronomist.pl
Design, creation & development phase
In the creation and developing phases we adopted lean frameworks and methods:
Design thinking and workshop sessions
Future thinking
Roadmapping
Getting things done
P2P development
UX design
User flow and Architecture of Information: After completing all our research we took on developing low-fidelity mockups.
Through collaborative brainstorming and wireframing sessions, we created simplified low-fidelity mockups that captured the essential structure and functionality of the solution.
This step enabled effective communication and feedback from stakeholders.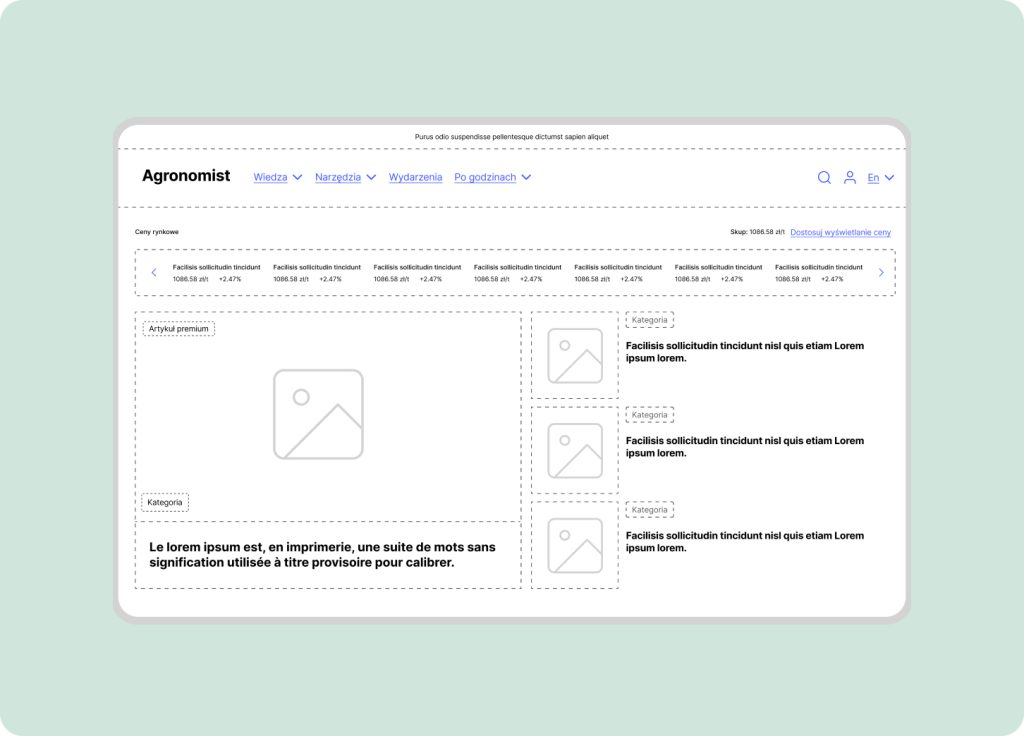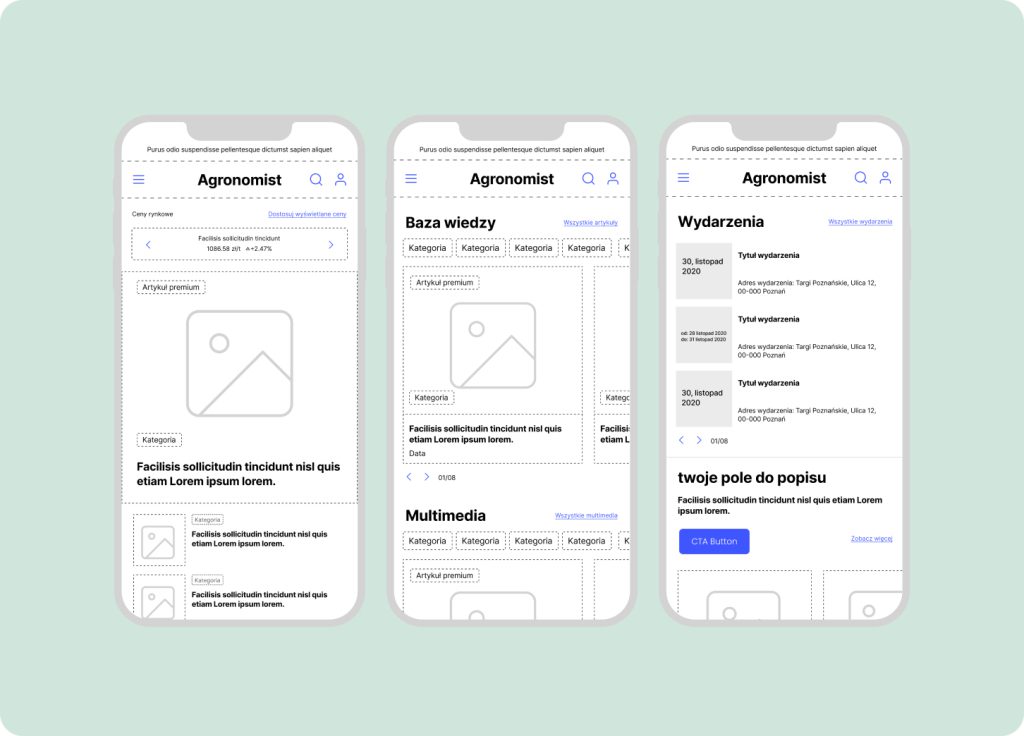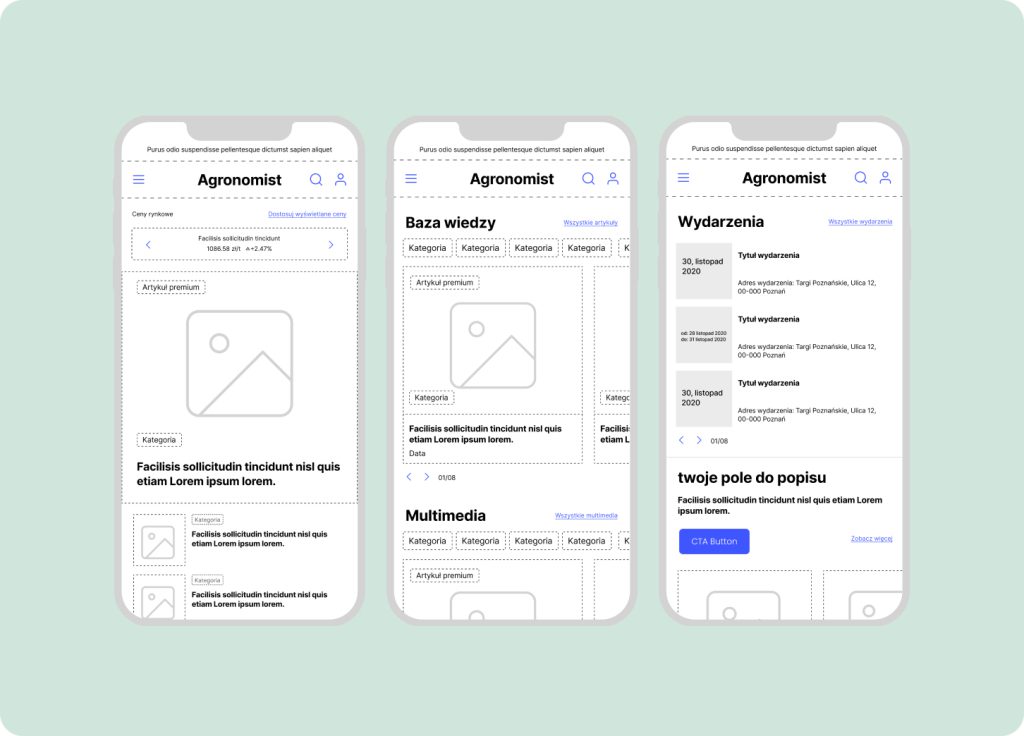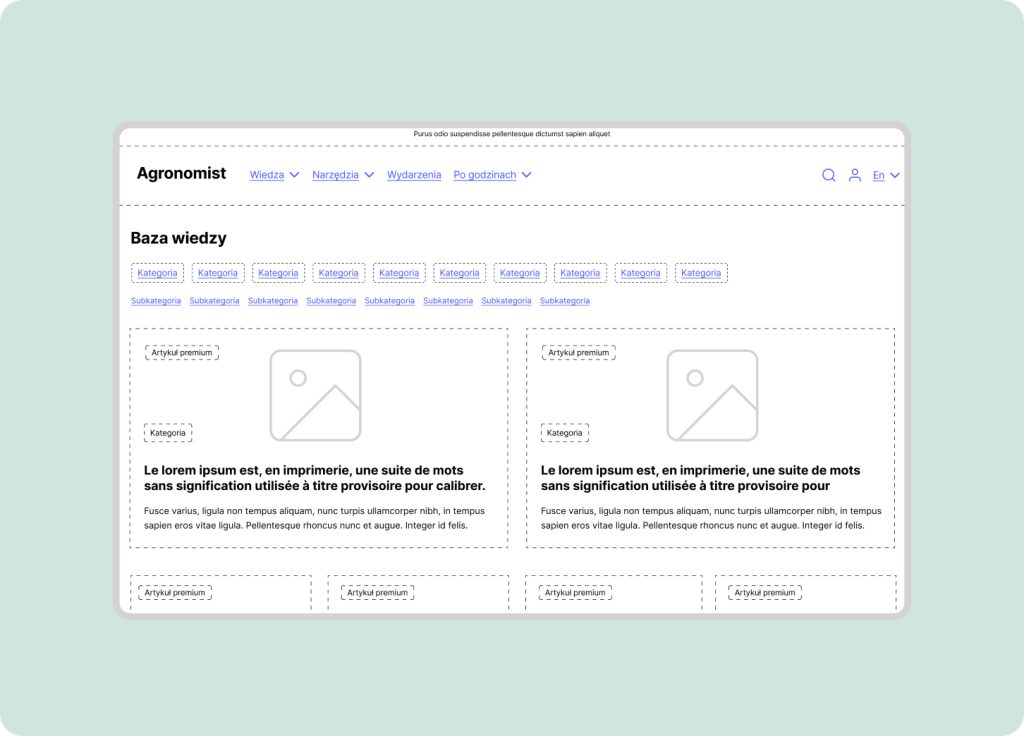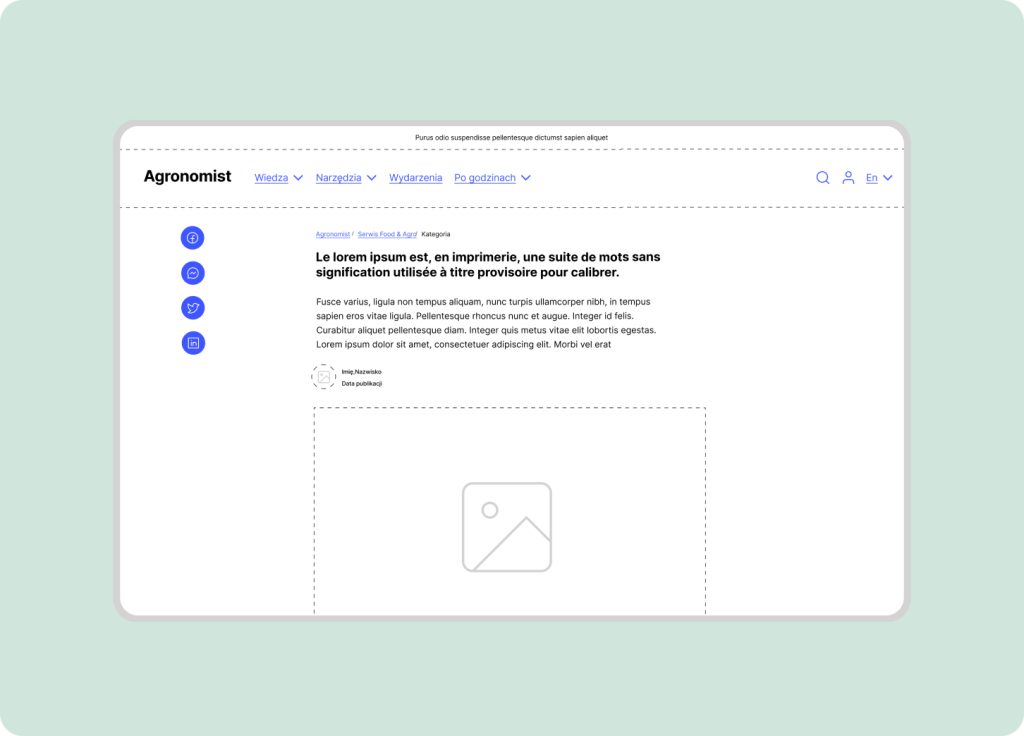 UI design
Our team delivered a complete design system that aligns with the essence of BNP Paribas brand identity.
We paid careful attention to every detail, following the guidelines outlined in the brandbook to ensure consistency in visual elements, typography, color palettes, and UI components like buttons, forms, charts, and reports.
To reflect the brand's emphasis on sustainability, ecology, and approachability, we incorporated shades of grassy greens and sunny yellows into the palette, giving the design a crisp yet inviting feel.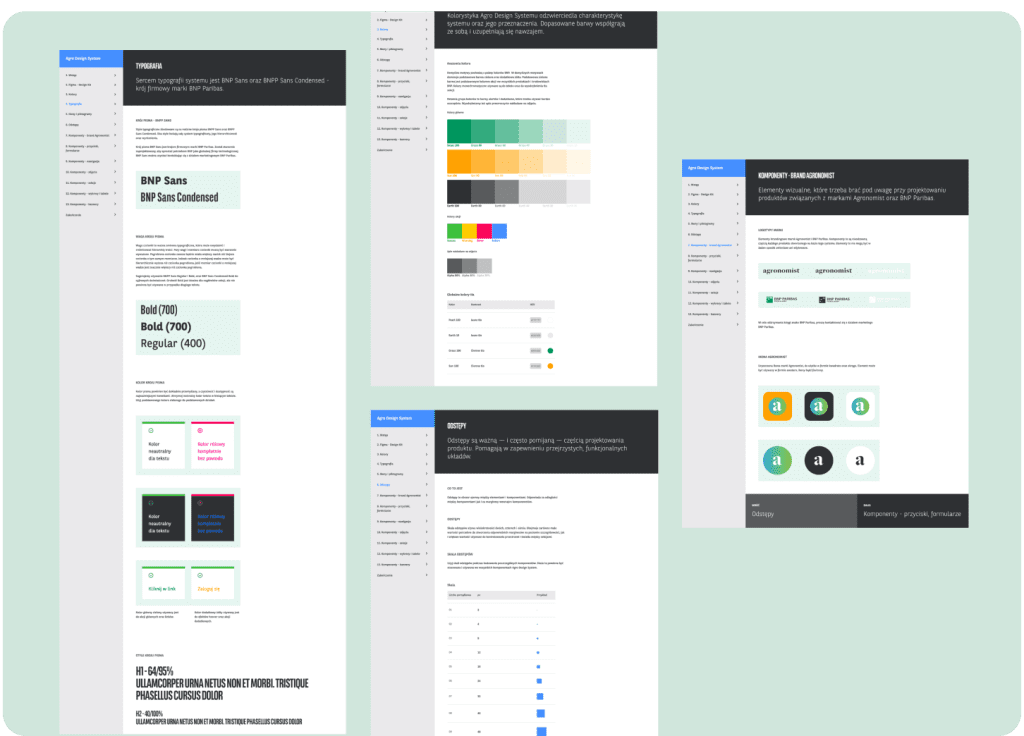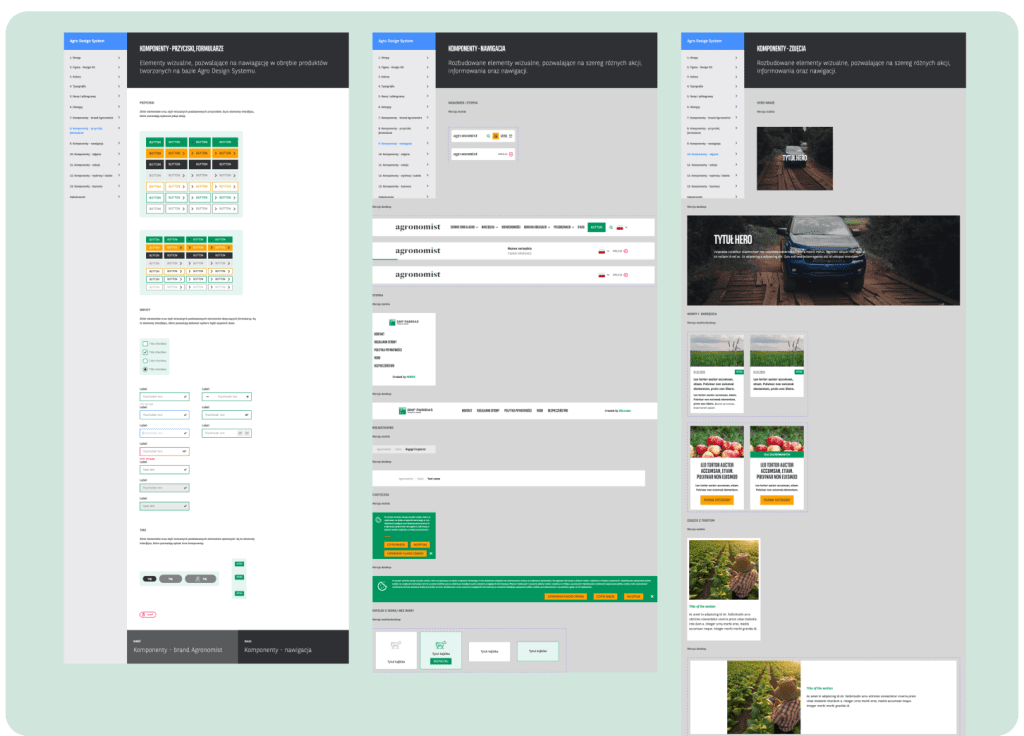 Key redesign elements
Landing page
The new landing page design exudes a crisp, fresh, and inviting aesthetic with well-crafted key sections that enhance the user experience
The handy update includes the convenience of farmers having real-time market insights and pricing information right at their fingertips, allowing them to make well-informed decisions that drive their success. The list of newly published or the most read articles section keeps visitors up-to-date with the latest industry insights.
Multimedia elements engage users with captivating visuals and videos. The event calendar ensures users never miss important agro and food-related events.
Instant access to a comprehensive suite of tools, including analytical and optimization resources such as calculators, finance tools, and information tools.
To perfect the overall experience, we dedicated special attention to crafting an extra intuitive and user-friendly mobile interface.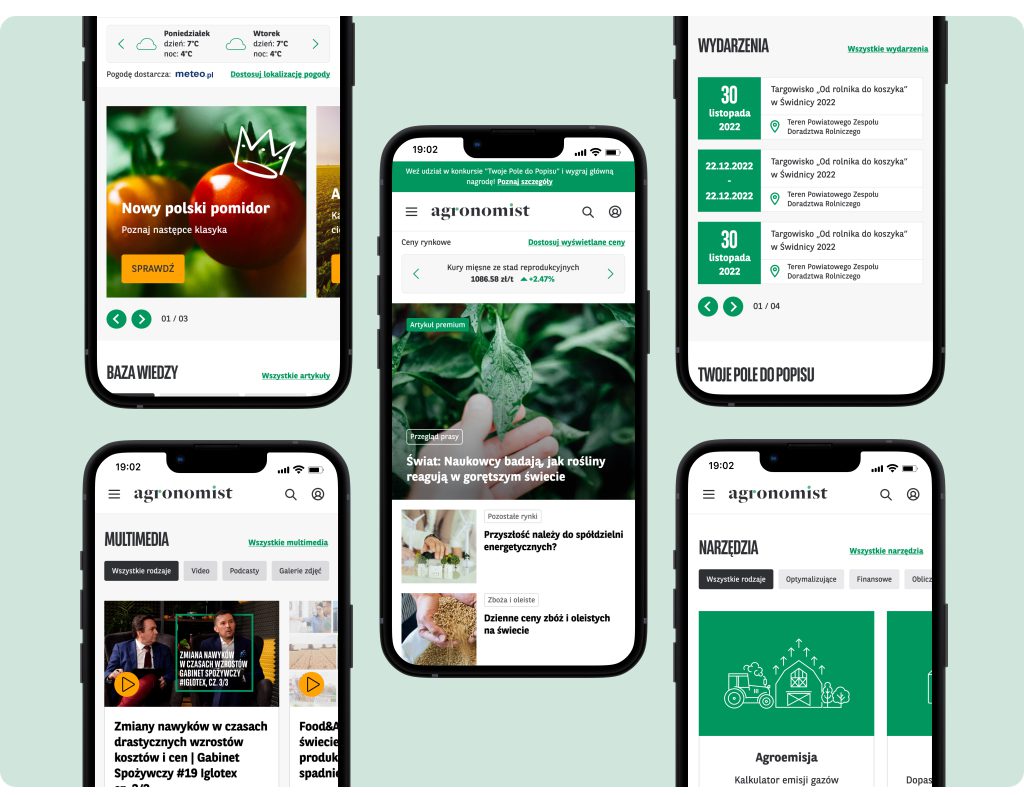 Navigation
We decluttered our navigation system to prioritize essential services, resulting in a streamlined and user-friendly experience that allows users to easily navigate and access the services they need. The simplified navigation enhances efficiency and ensures a seamless journey for our users.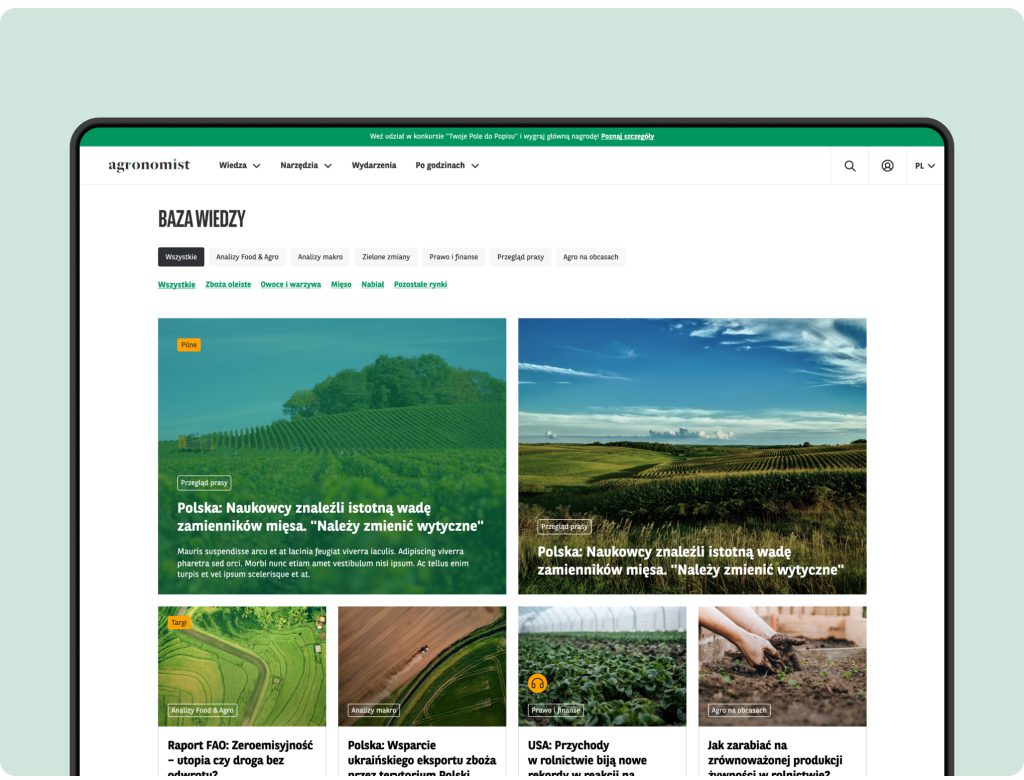 To aid users in navigating through the content, we have implemented a convenient labeling system for each article, clearly indicating the assigned category. Additionally, on the "Knowledgeable" page, we have organized all categories into tabs, providing users with a user-friendly filtering mechanism to effortlessly navigate the extensive collection of articles.
These thoughtful enhancements ensure that users can efficiently explore the vast knowledge base with ease and precision.
Agronomist offers two types of articles: premium that caters to registered users and free articles for open-access users. This exclusive content encourages users to register on Agronomist platform and boosts conversion rates.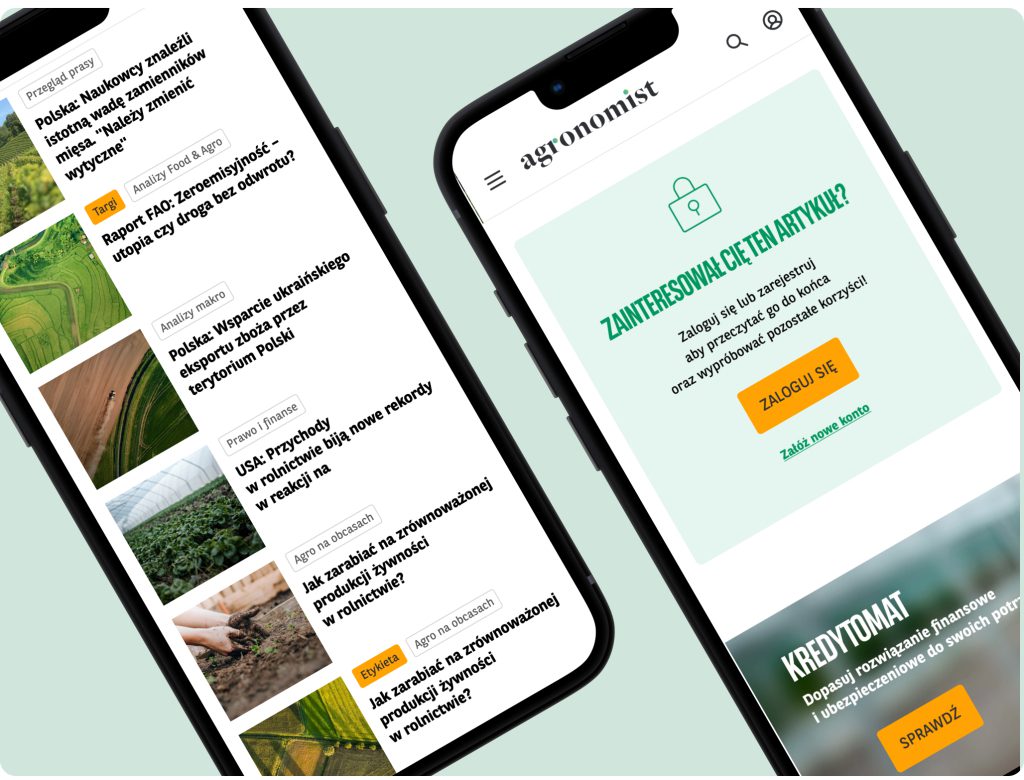 In addition, we have thoughtfully designed two distinct types of article pages to deliver an optimal reading experience for text-based articles and seamless playback for video content directly within the platform.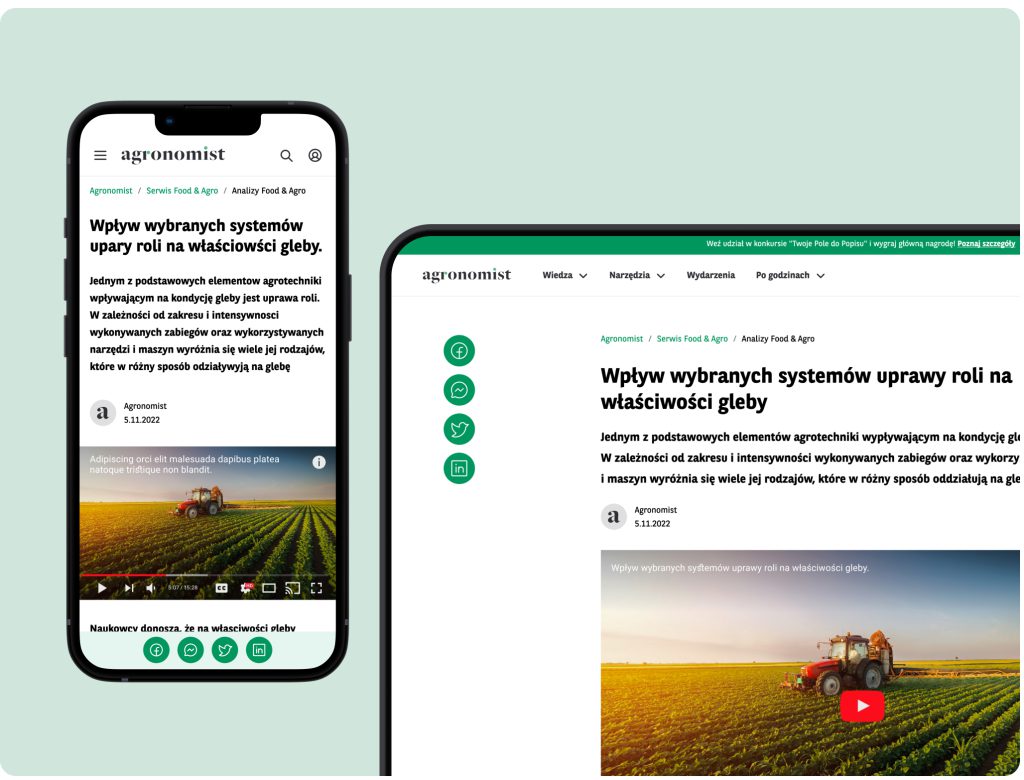 Impact for business
So far, over 5000 users have registered on the Agronomist platform (this figure still increases!). It has become one of the most prominent Food & Agri portals in the Polish market.
Following its successful launch, we continue to collaborate with BNP Paribas in the product development phase – refining existing features and creating new ones. Together, we are shaping the future of Agronomist, constantly striving to provide an exceptional user experience and stay at the forefront of innovation.
Definitely demonstrated enthusiasm, professionalism, and flexibility. From the beginning, 300.codes was determined to deliver a result that meets our expectations. That is not easy to observe on the market.

Marcin Adamczyk
BNP Paribas Bank Polska S.A.