Product design
Clothing and fashion
Obsessive: shift towards an upscale market with a chic mobile-first eCommerce design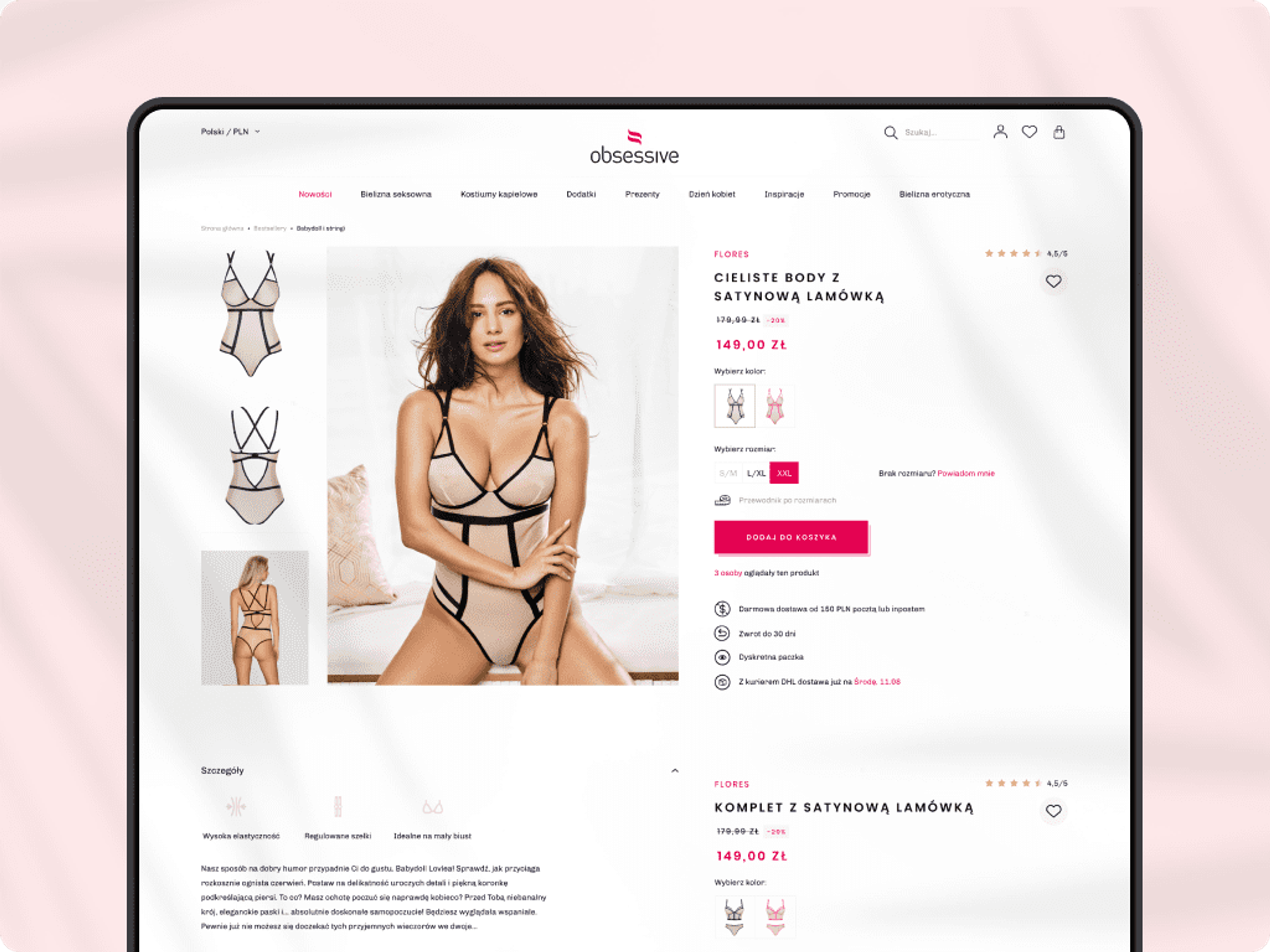 Meet Obsessive
Obsessive is a Polish brand of sensual lingerie for women with 15 years of presence on the global market.
Thanks to thriving development, keeping up with the latest trends, and their cooperation with foreign partners, Obsessive lingerie can be purchased in more than 60 countries – from Italy to the United Arab Emirates.
In Poland, the Obsessive offer is available in as many as 700 partner stores.
The challenge
Obsessive eCommerce was in great need of a brand re-focus, visual consistency, and improved user experience.
Their current eCommerce failed to meet the needs of a more sophisticated clientele. It was time to bring the user experience a new, stylish and cohesive look & feel.
Our main goal was to improve the conversion rate by re-positioning the brand on a more upscale market, bringing some chicness to the design and providing visual consistency.
We focused our efforts on increasing the share of the eCommerce sales channel in the company's total revenue, increasing the conversion on mobile devices and preparing the eCommerce for the brand's ambitious plans of expansion.
Scope & services
300.codes delivered a comprehensive range of services, encompassing a vast scope. Those included:
Market research
Competition analysis
Website design
Trend Analysis
Web Design
Development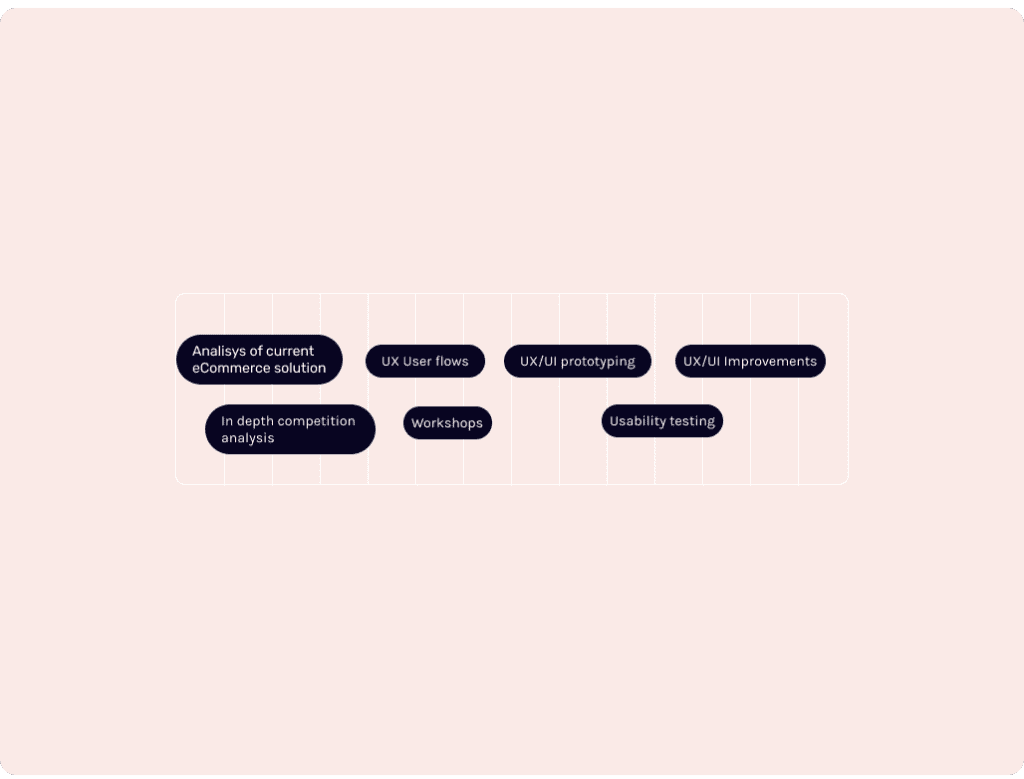 We conducted the process of designing the user interface using the modified Design Thinking method. At the beginning, we defined the stylistic direction for the desktop version (home page and product card), then we made a pivot and moved to a mobile-first design.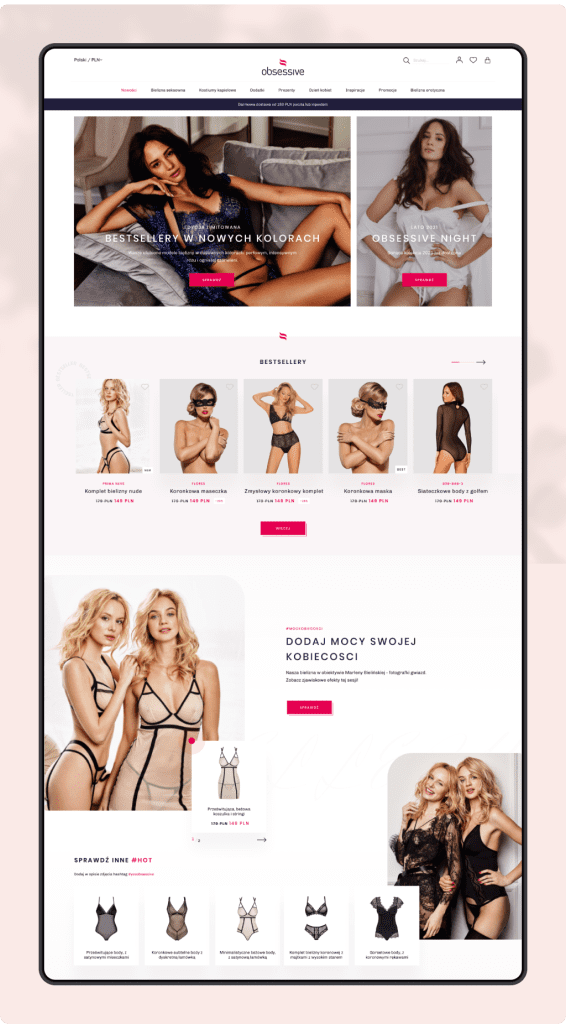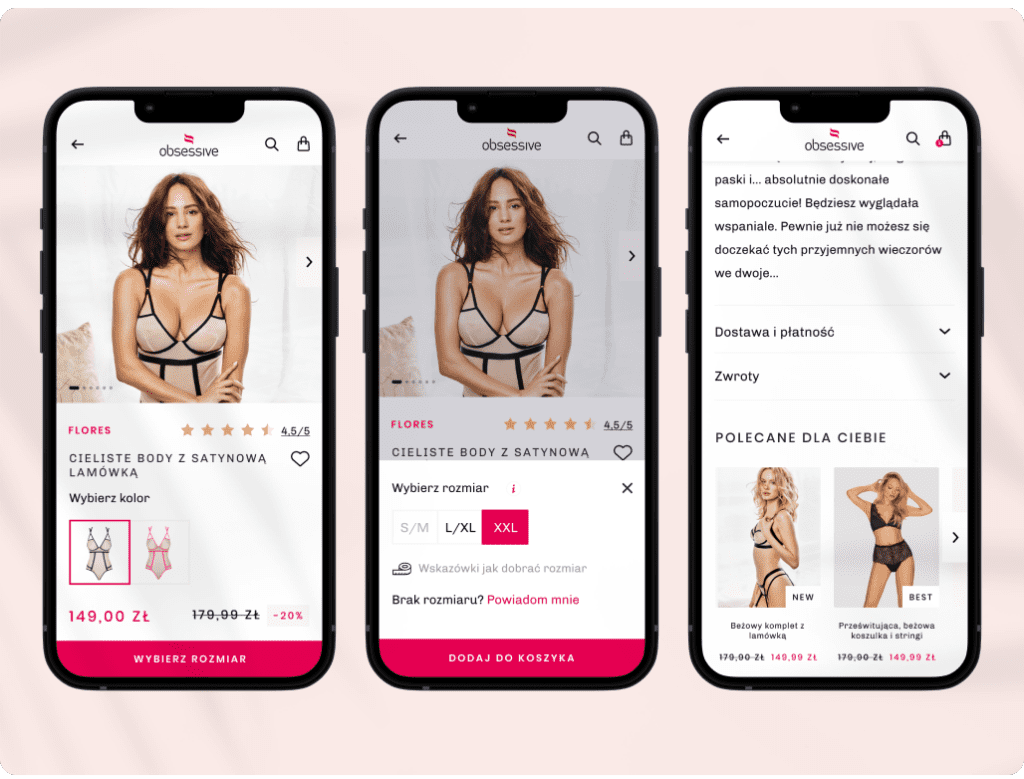 How we did this
We wanted to change the overall perception of the website and shift it towards a more luxurious market. We aimed at a visual language that manifests the brand's ambitions to be perceived as a more high-end brand.
We focused our efforts on creating a beautiful and sophisticated UI design, accompanied by a streamlined UX experience.
By ensuring a visually stunning user interface and a seamless shopping experience, we managed to shift Obsessive's perception towards a more exquisite and refined lingerie boutique, offering upscale and refined lingerie.
Discovery phase
Analysis & Research: due to the previously defined design and business goals, this stage was devoted to discussing the needs and problems of users.
We combined the collected knowledge with the analysis of the competition and in-depth research, which allowed us to perform the first design tasks.
Key insights
Based on the research and analysis we defined a series of key insights to understand how customers are using Obsessive eCommerce and what are the main problems with the existing solution.
That helped us move forward to the next step: redefining user experience, the website's architecture, and overall look & feel consistent with the brand's core values.
We drew several key insights from workshops with Obsessive:
The main focus is to shift the client's overall perception of Obsessive's product and brand from that of an erotic store to an exquisite and sophisticated lingerie boutique.
Streamlining cart and checkout experience
Designing user user-friendly mobile version
Well-crafted product's page
Effective leveraging upscale and cross-selling techniques on product pages, to maximize customer value.
Enhancing filtering options
Cultivating long-term loyalty with a well-thought-out wallet of coupons for discounts and offers.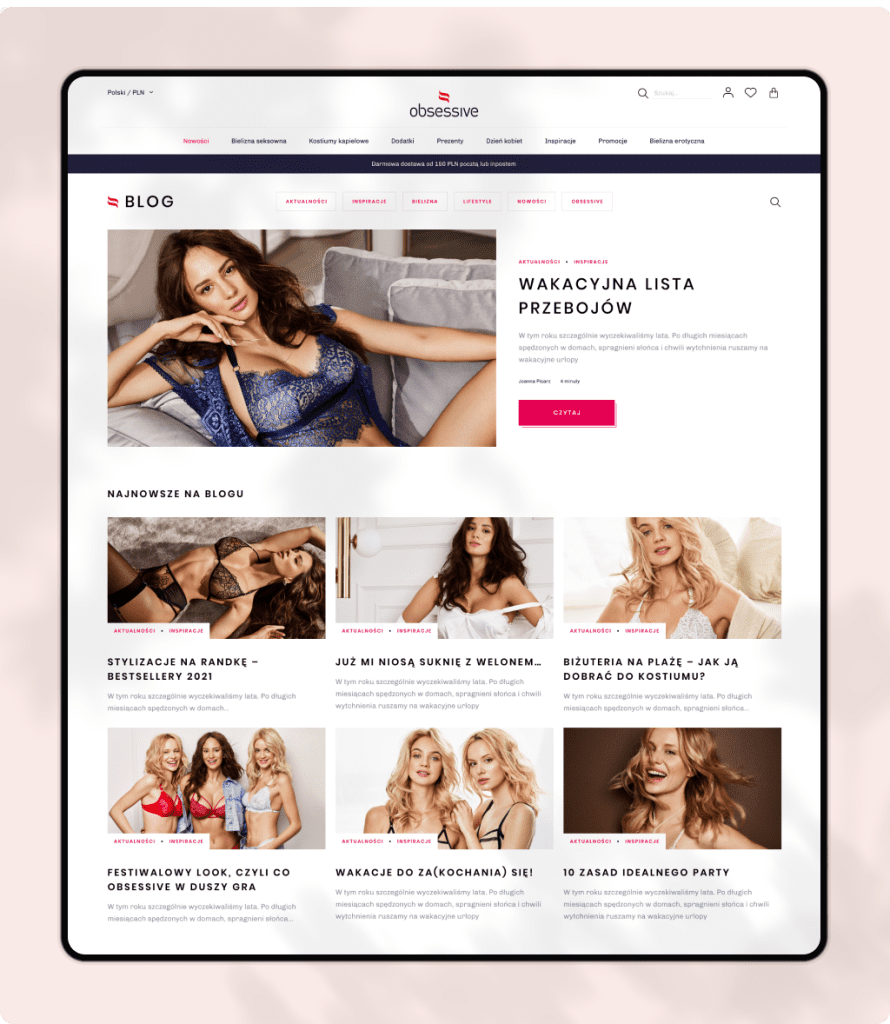 Design, creation & development phase
Based on the user flows developed at an earlier stage, we moved to design high-level mockups of the website. The main task was to develop the content structure, functionality and distribution of elements on the layout.
By utilizing functional mock-ups, we were able to shift our focus to the visual aspects during subsequent design stages. This led to the next phase: design of a clickable interface prototype, offering a tangible representation of the user experience.
Following a productive moodboarding session and drawing inspiration from our gathered references, we engaged in discussions regarding the visual direction for the website. Subsequently, we developed a design template centered around the system's home page. Upon its approval, we proceeded to implement the visual layer across the remaining screens of the website, resulting in comprehensive UI documentation for the project.
UX design
To begin, we embarked on developing low-fidelity mockups that laid the foundation for an intuitive and user-friendly interface. Through collaborative workshop sessions, we carefully crafted simplified representations of the user flow, information architecture, and key functionalities.
The low-fidelity mockups served as a tangible medium to discuss and iterate upon the UX elements, allowing us to fine-tune the design and address any potential pain points or usability issues early on.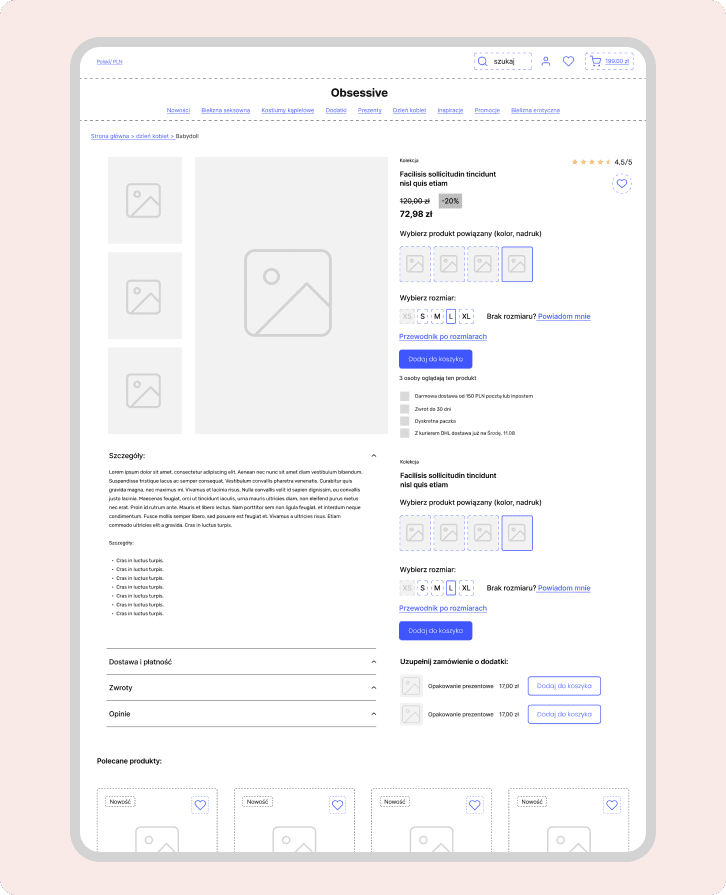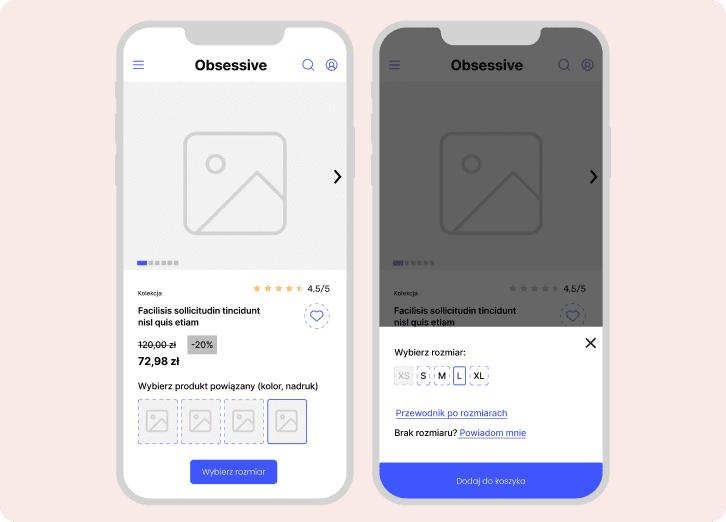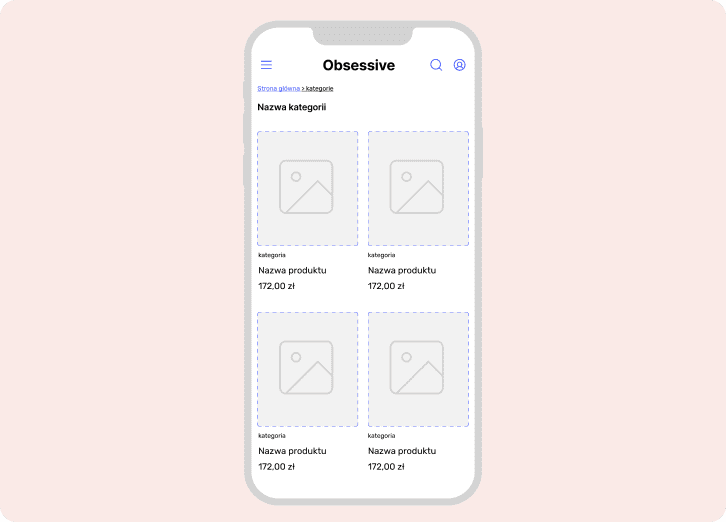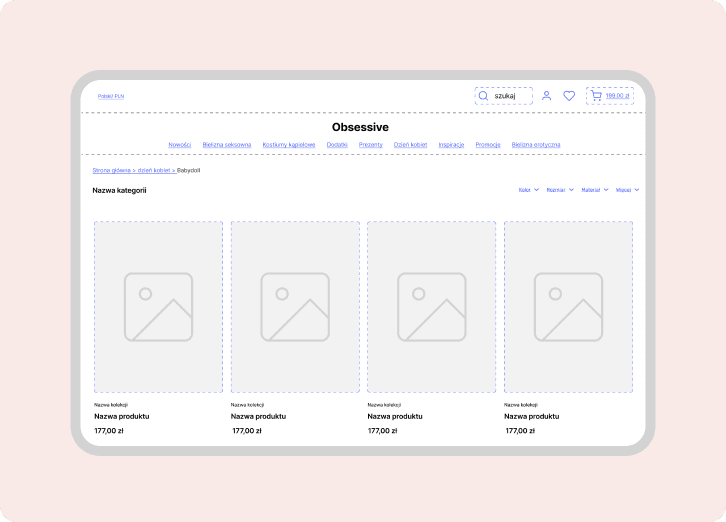 UI Design
Our design team created a carefully crafted style guide for Obsessive, providing them with a minimalistic and elegant layout.
The design embraced plenty of negative space, allowing elements to breathe, while the beautiful typography enhanced the overall aesthetic.
To accentuate Obsessive's super feminine brand image, we incorporated fuchsia-pink motifs, adding a touch of vibrancy and an extremely appealing look and feel.
One of Obsesive's main strengths is their attention to quality thus we gave the design plenty of air so the products' bold visuals are a focal point of the interface.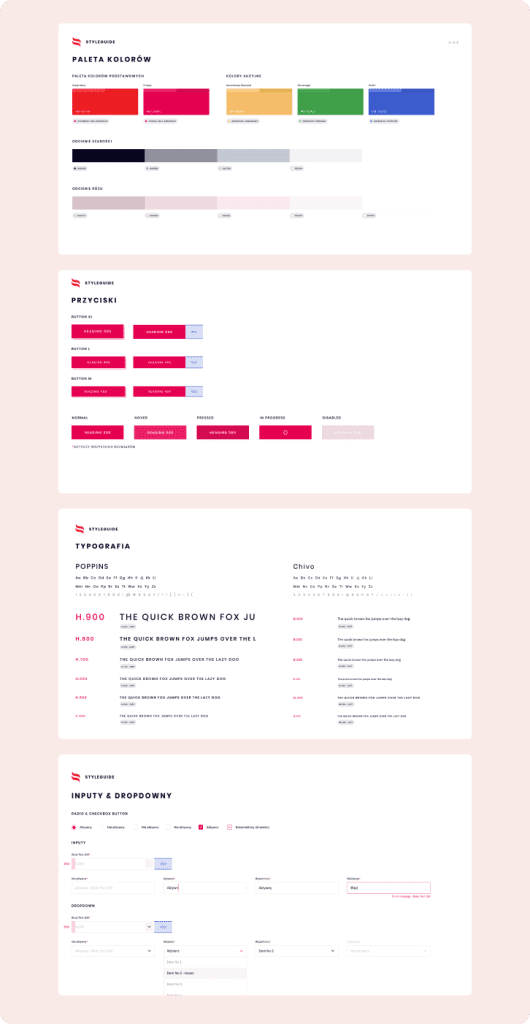 Key eCommerce functionalities
Product page
The product page is a vital part of each eCommerce, it's where the magic happens and where one converts a buyer into a potential lifelong customer. We put extra effort into designing an informative product page that follows the eCommerce golden standards.
Positive social proof in the form of customer rating.
This part of the product page is crucial for building the brand's credibility and should never be underestimated. According to the latest discovery as many as 92% of consumers are likely to read at least 4 ratings before making a purchase.
Relevant product suggestions. This part of the website exploits the potential of cross-sales and up-sales that have great potential of increasing AOV (Average Order Value).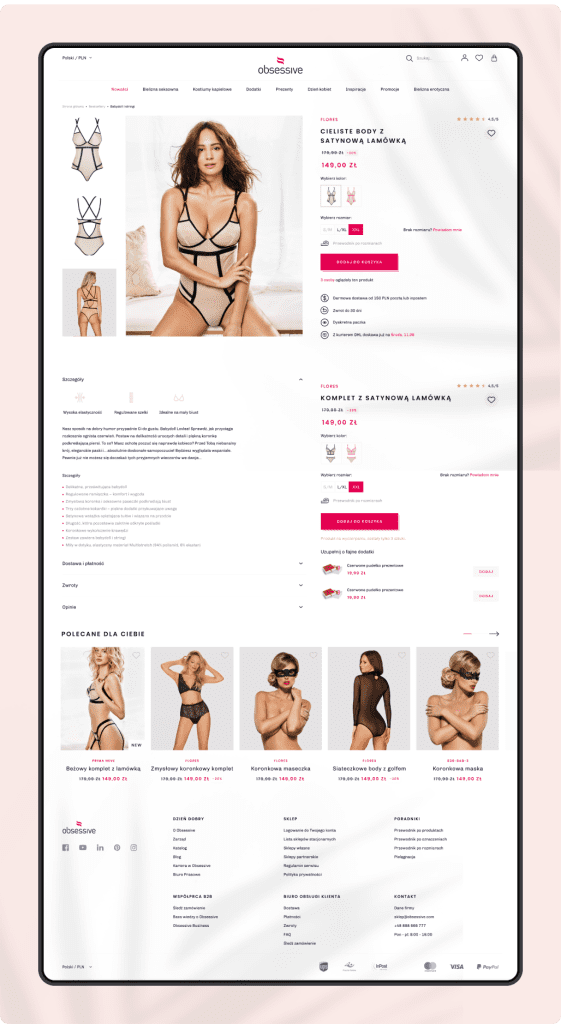 According to recent data from the IMRG Benchmark, approximately 52% of multi-size orders are returned. This statistic shows the significant proportion of returns that occur due to sizing issues.
To help shoppers and sellers to omit purchasing mistakes and thus limit returns that are costly to process we've added extra helpful sizing tips.
We address questions like shipping and returns policy, guarantees, and other concerns the customer might have.
Additionally, we make sure customers have easy access to FAQ that enables them to resolve issues on their own.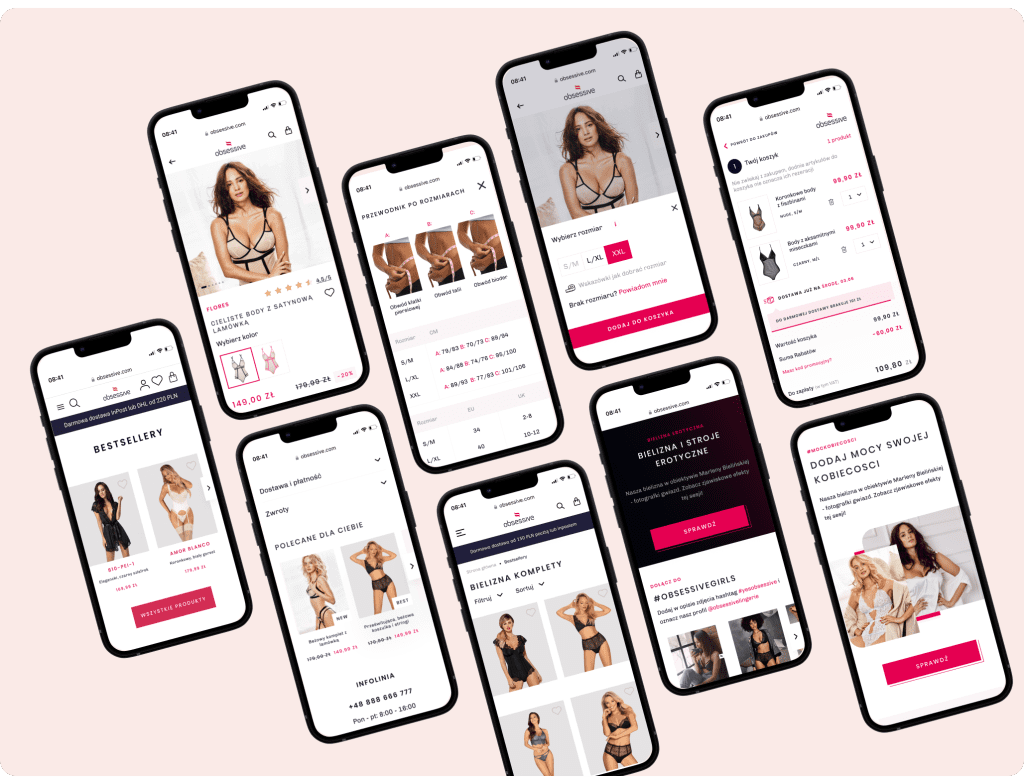 Product listing page
An effective product listing page allows casual users to browse through the assortment and more intent users find what they are looking for quicker and fuss-free. We made sure Obsessive listings include easily accessible filtering that helps shoppers refine their search by specific attributes.
During the phase of discovery, we tracked down the most popular filters (size, color, and material) and gave them priority. The rest of the filters included the type of product, cut, and collection and recommended we clustered in a separate dropdown.
Breadcrumbs make the navigation easier and an obvious category header helps with orientation within the categories.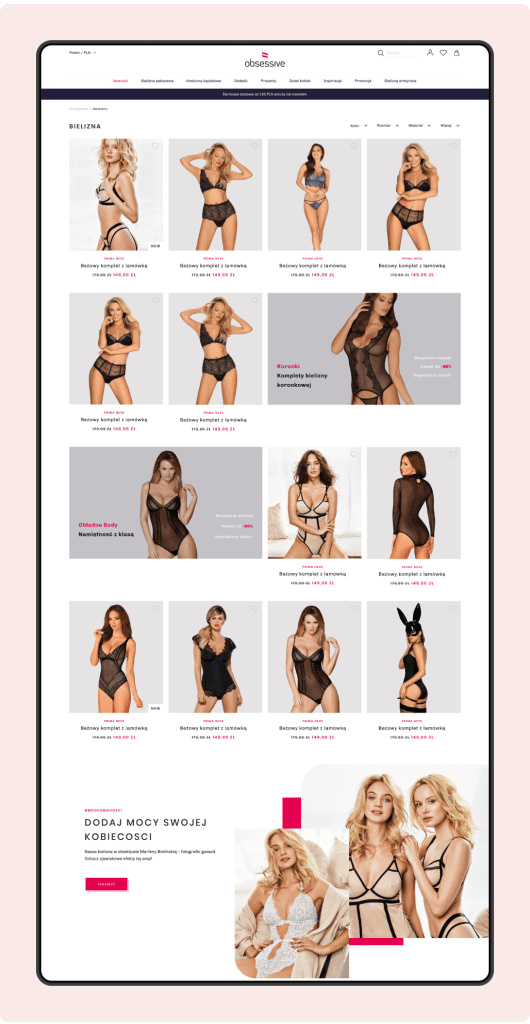 Streamlined cart and checkout experience
Clear and well-put order overview with well-marked information on how much extra spending would entitle the customer to free shipping.
Information about the amount of the discount applied to the cart. The discount on the cart is expressed in absolute discount (money talk) rather than %.
A good standard is to inform the customers about estimated delivery times based on chosen shipping provider.
We exploit the cross-sale and up-sale sections to encourage the bump up of the conversion rate.
Moreover, the customer can also add last-minute, inexpensive extras to the order.
Both these elements have a good potential of increasing the average value of the order (AOV).
Integration with the most popular shipping providers is a crucial element of the smooth process of placing an order.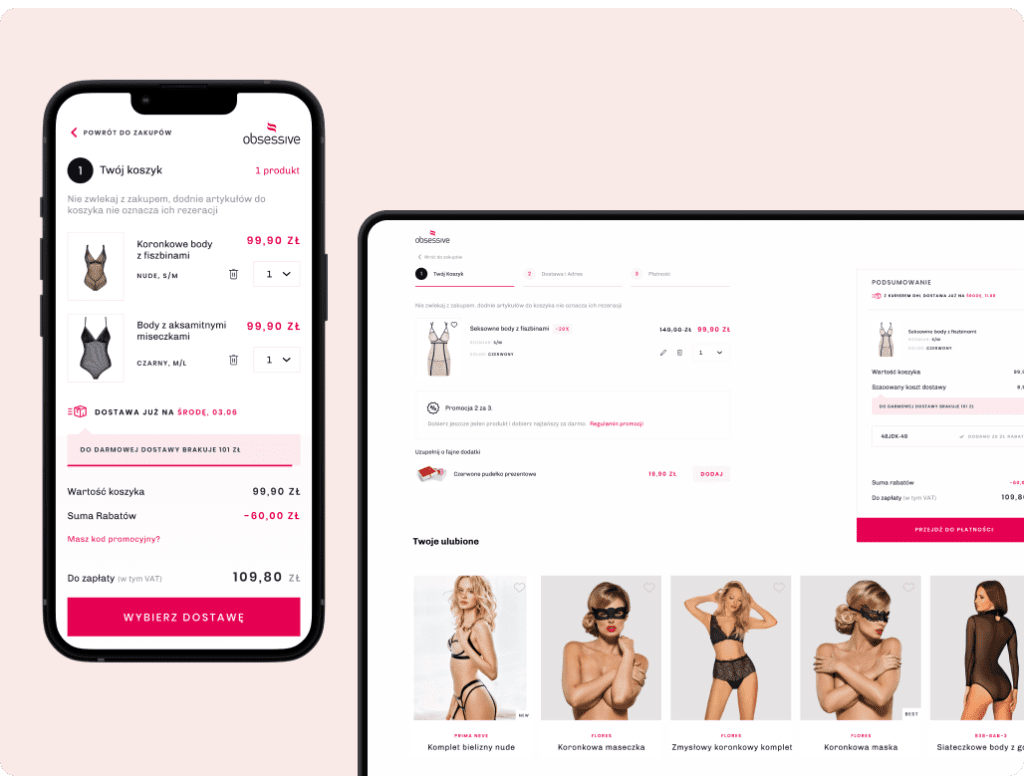 Wishlist
The wishlist feature, designed with transparency and ease of access in mind, enables registered customers to curate personalized lists of their favorite items for future consideration and potential purchases.
This convenient functionality empowers users to conveniently keep track of products they desire, fostering a seamless and enjoyable shopping experience.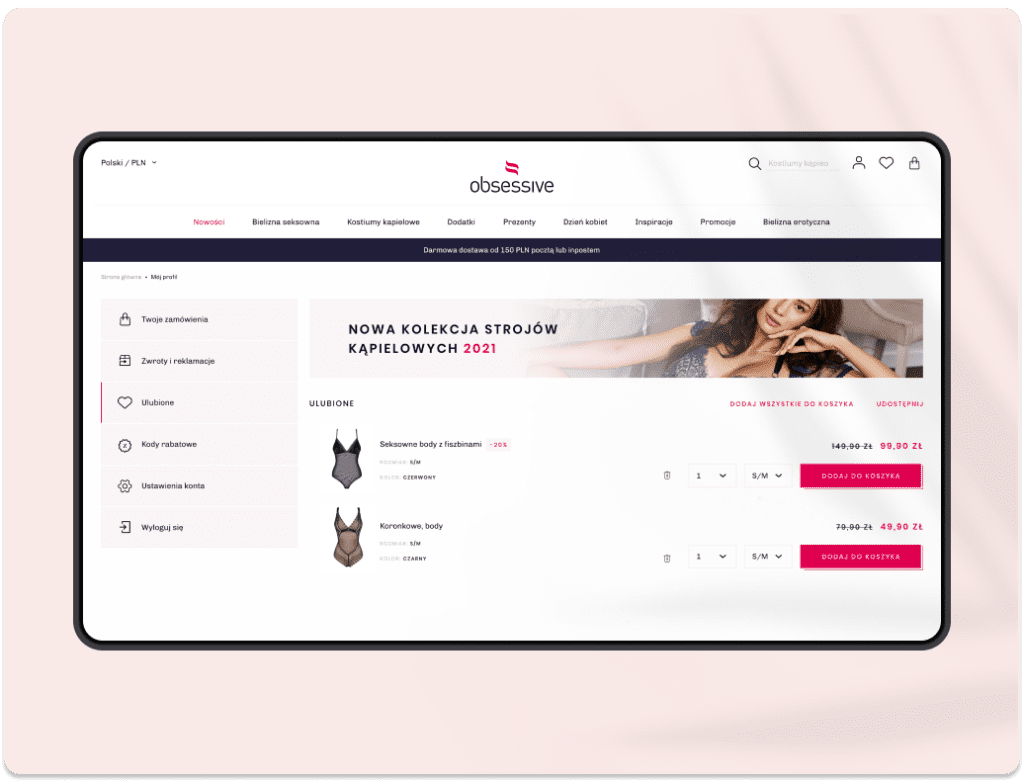 Easy-peasy returns, exchanges and claims
Returning products online has become a golden standard in recent years.
According to a recent survey conducted by Invesp, a staggering 79% of consumers expressed the desire for free return shipping and indicated that they would not shop with retailers who make returns difficult and pricey.
This statistic highlights the significant role that easy returns play in influencing customer decisions and helping to build trust in a brand. Customers want the assurance that they can conveniently return or exchange a product.
Obsessive's has implemented a user-friendly system that grants registered customers effortless access to quick exchanges/claims and returns through their accounts.
This added benefit serves as a great incentive for customers to register with the platform, building customer loyalty and encouraging repeat purchases.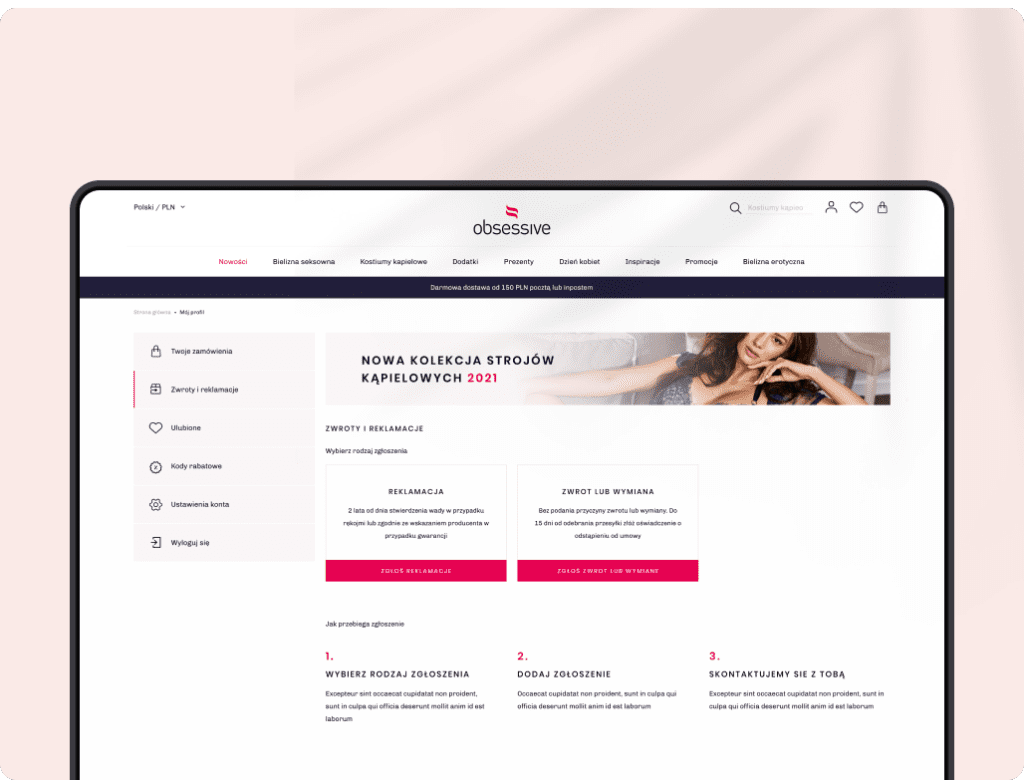 Coupons wallet
The coupon wallet serves as a powerful tool in driving customer satisfaction, repeat purchases, and ultimately, increased brand loyalty.
By providing customers with a dedicated space to store and utilize their coupons, we foster a sense of exclusivity, creating a strong bond between the brand and its valued customers.
According to a study, 91% of coupon redeemers suggest they'll revisit retailers that offer coupons, and nearly 60% of shoppers declare that they would abandon the cart without the discount coupon.
It's surprising what an immense effect a simple coupon has on customers and on improving critical KPI's.
To harness the potential of the coupons we armed Obsessive eCommerce solution in a coupon wallet where the customers can collect and manage their discount codes.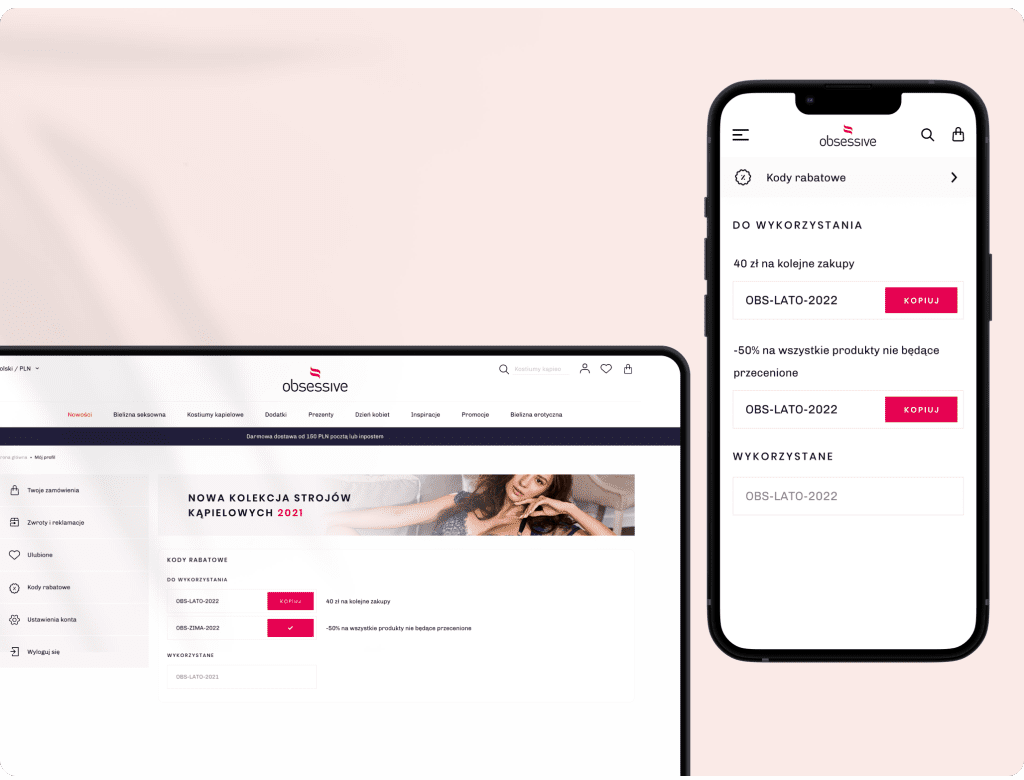 Impact for business
We managed to shift the overall perception of the brand to more exclusive, quality and high-end.
After the launch of the new eCommerce solution, Obsessive noted a high increase in ROAS (return on ad spend). Previously, for every zloty spent, the revenue was 5, after the implementation of the new eCommerce increased to 7PLN.
Additionally, the average time on the site increased by 2 minutes and 25 seconds- After the implementation of the new store, users add products to the shopping cart more often – an increase of ~7 p.p. as well as an increase in conversion (understood as sales) on mobile devices by 0.4 p.p.
300.codes' work helped the client redefine their company's strategic goals by refreshing their visual identity. The team strictly adhered to the established timeline and budget, making for a seamless workflow. They impressed with their professionalism and receptiveness to client input.