OUR SERVICES
getting hands dirty
User Experience
Structure

Wireframes

Testing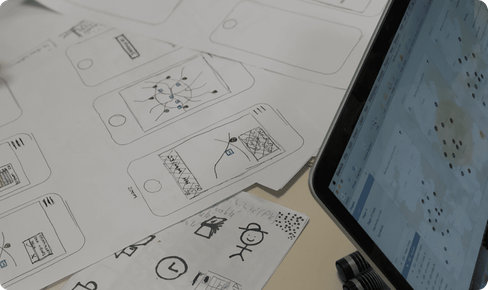 Once we know our goals, let's discuss how to reach them through the product.
The key is the information architecture. We design mock-ups that illustrate the shape of the presented system – with focus on the functionality. Finally, the our solutions will be verified on a clickable prototype.
How we do it
Implementation tools
Stage output
Implementation tools
Information architecture
User flows
Stage output
Site map
Navigation
Architecture scheme
Implementation tools
Lo-fi wireframes
Interactive prototype
Stage output
Implementation tools
Guerilla tests
A / B tests
Usability tests
Stage output
The prototype is ugly, there's no two ways about it. It is also, however, invaluable to graphic designers and developers alike, because it helps them better understand the project and work faster and more effectively. It's also one of the cheapest ways to illustrate, how are we fulfilling scope requirements. If we make the prototype interactive, we can also use it for usability testing - verifying design decisions with actual users.
Schedule a meeting
Alexander is an expert in project & product management. If you have a specific question or want to discuss a project, just schedule a free meeting with Alexander and discuss your idea.
Schedule a call

Contact us
Let's talk about your idea – fill in the form and we will contact you within 24 hours. We can't wait to start working with you!