OUR SERVICES
mobile
business first
Discovery
Business requirements

User needs

Market landscape

Evaluation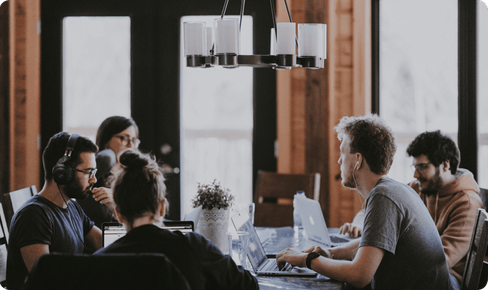 The tech we deliver must meet your business goals. Let's learn them first.
First things first. Before we start anything, you work with our expert team – CEO, Product Designer, Business Strategist and Designers. Pure business consulting. A lot of meetings.
This is how we can deliver a good action plan. We break down your business and analyse it from every perspective.
How we do it
Implementation tools
Stage output
Implementation tools
Service blueprint
User journey mapping
Stage output
Action plan for further research
Implementation tools
Stakeholder interview
Value Proposition Canvas
In-depth IDI interviews
Analysis of existing materials (available reports prepared from other sources)
Stage output
Implementation tools
Competition analysis
Desk research
Stage output
Implementation tools
UX expert audit
Google Analytics
Eye tracking
Stage output
We use the information gathered to determine the feature set of the product. This is a list of all the actions the user can perform, but also of what the system can actually do. This helps us to both avoid "feature creep" and set realistic workload for the project.
Schedule a meeting
Alexander is an expert in project & product management. If you have a specific question or want to discuss a project, just schedule a free meeting with Alexander and discuss your idea.
Schedule a call

Contact us
Let's talk about your idea – fill in the form and we will contact you within 24 hours. We can't wait to start working with you!